GROUNDED 2015 Blog
A HUGE thank you to all who witnessed the very first Grounded: Battle of the Arts last 24-25 October 2015. It was a big success and everyone had a fabulous time!
Congratulations to all competitors and performers for your display of artistic excellence! Special mention to our awardees:
Gina Michael - winner of Most Outstanding Choreography (Urban / HipHop)
Jayden Hicks - winner of Most Outstanding Choreography (Lyrical / Contemporary) | 2015 Grounded Runner Up!
Jayden Hicks & Team Sloth - winner of Most Outstanding Team Performance (Lyrical / Contemporary)
Lowell Demetita & Team Envy - winner of Most Outstanding Team Performance (Urban / HipHop) | 2015 Grounded Champion!
LIKE Facebook page for all updates about Grounded
CLICK HERE TO WATCH THE GRAND FINAL SHOW ON YOUTUBE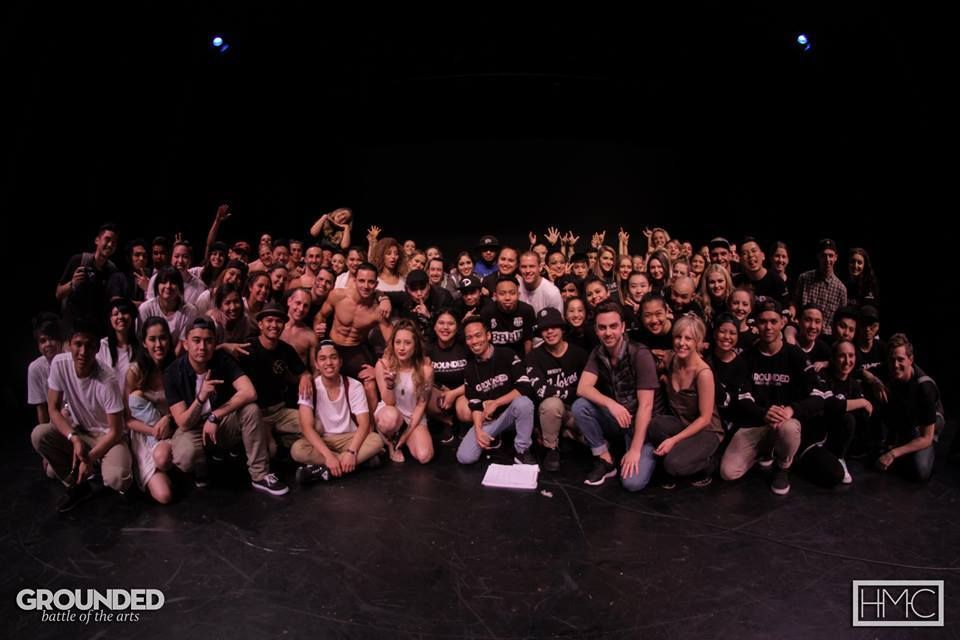 - - -
MORE ABOUT GROUNDED 2015
In 2015, our team at Triple8Funk Entertainment had the opportunity to create a fresh and unique event in Melbourne, Australia. We called it Grounded: Battle of the Arts, a theme based invitation only choreographer competition.
The idea came to fruition in 2014. Having produced HipHop theatre shows for over a decade now and having witnessed numerous dance competitions, we had the idea of combining a theatre show and a competition. This is when Grounded started to come to life.
Triple8Funk Dance Crew setting up back stage for Grounded.

They opened the 7 Deadly Sins show with the theme of Hell.
We wanted Grounded to celebrate local artists and to create a platform to expose their works both on stage & online. We also knew that there was a need to initiate a spark in the community and to inspire a change especially in the dance competition scene. We believed that this event had the potential to do so.

The theme for 2015 was 7 Deadly Sins so we carefully handpicked 7 HipHop / Urban and 7 Lyrical / Contemporary choreographers. Each of them represented a sin and had to create a piece for the big production battle. We had an extraordinary line up of choreographers who are very respected in the scene. Artists like Jayden Hicks, Gerard Pigg, and Jack May were some of the choreographers who accepted the challenge.
One of the finalists, Jemma Townsend, created a piece to Lust and brought the viewers to the Garden of Eden
It was a big task to put on a show with more than 200 dancers involved. However, every single person who was part of the project did an excellent job from pre-production up to the competition day so everything ran very smoothly. Our favorite part was the vibe during the event itself. Each performer supported the other giving kudos and encouragement throughout the weekend. Everyone was excited for each other. It didn't feel like your typical dance competition at all. This uplifting energy carried through after the event with praises all over social media. We had a total online reach of over 47,000! It had definitely exceeded our expectations.
We were extremely pleased with how it went. Melbourne came together as a community and showcased excellent works. We highly encourage you to check out the amazing dance pieces if you haven't yet on our online channels:
Facebook – www.facebook.com/groundedshow
Youtube channel – "Grounded: Battle of the Arts"
Congratulations Lowell Demetita & his team Envy for being the first ever Grounded Grand Champion winning cool prizes such as a Healthy Team Banquet, USANA Athletes Program One Year Sponsorship and $2000 cash prize. Watch his piece on Grounded's Youtube channel
We are so pumped for the future of Grounded and our plans for its expansion. We also understand that as artists, we have the capability to educate and inspire the world with what we do so this will be one of Grounded's core commitments. Our whole team is very excited about our community's growth with Grounded in the picture. Stay tuned for more exciting news about Season 2 this October 2016.

#GroundedShow